Oh wow, it's been quite a while since I last updated my journal. So much has happened since Anime Expo. Let's see where do I start...
After recuperating from AX I took some time off to focus on other things, primarily future cosplans. My budget ran real low since then and it basically drained my wallet to the last penny. I had to plan carefully on which characters to do next and with Halloween just around the corner, I decided to go with Tokyo Ghoul's Ken (post torture). The costume relied on very little fabric with the main focus around his mask. It was my first time undertaking a task, but in the end I was pretty satisfied with the results. My little sister couldn't stick around till' Halloween, she had to deploy soon for Airforce basic training, so we went along with our friends to Disneyland for Mickey's Halloween Party - It's the only time when the park allows the kids and adults to dress up. It was pretty fun running around in our cosplay. My sister did Linkle from The Legend of Zelda and I as Tokyo Ghoul Ken. Our friends joined in as League of Legends Teemo and Shockblade Zed. Everyone at the park liked our outfits since we dressed up as a group.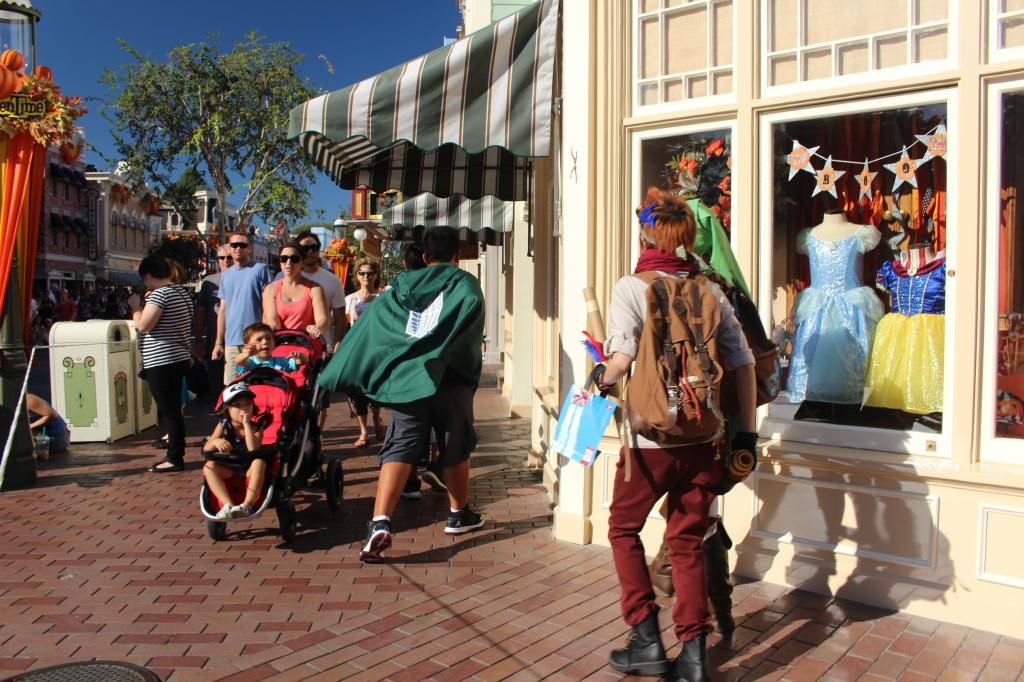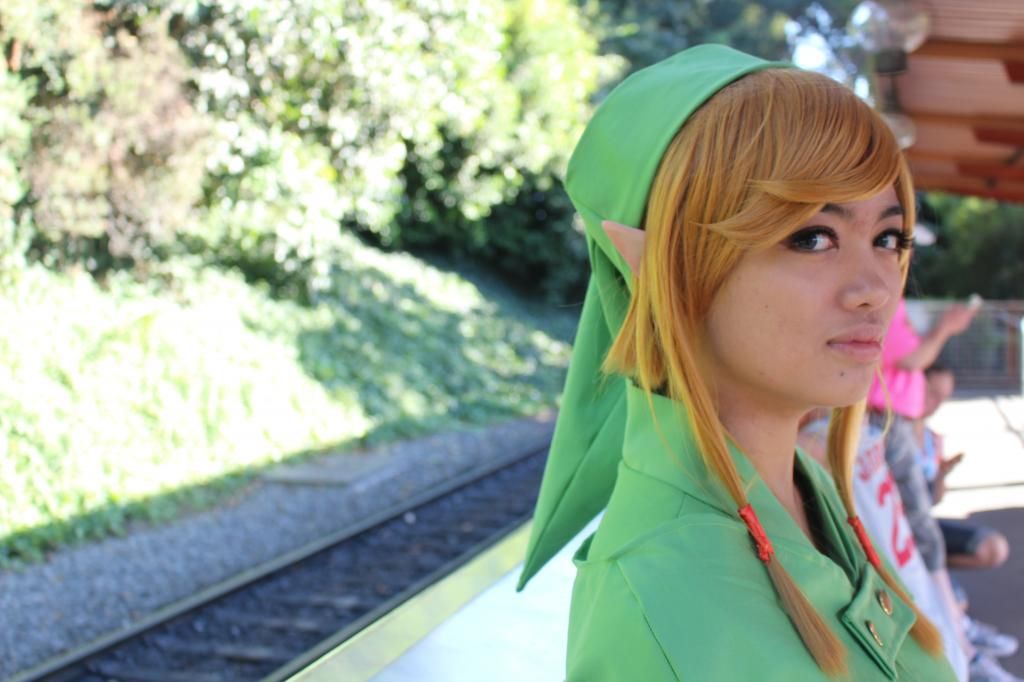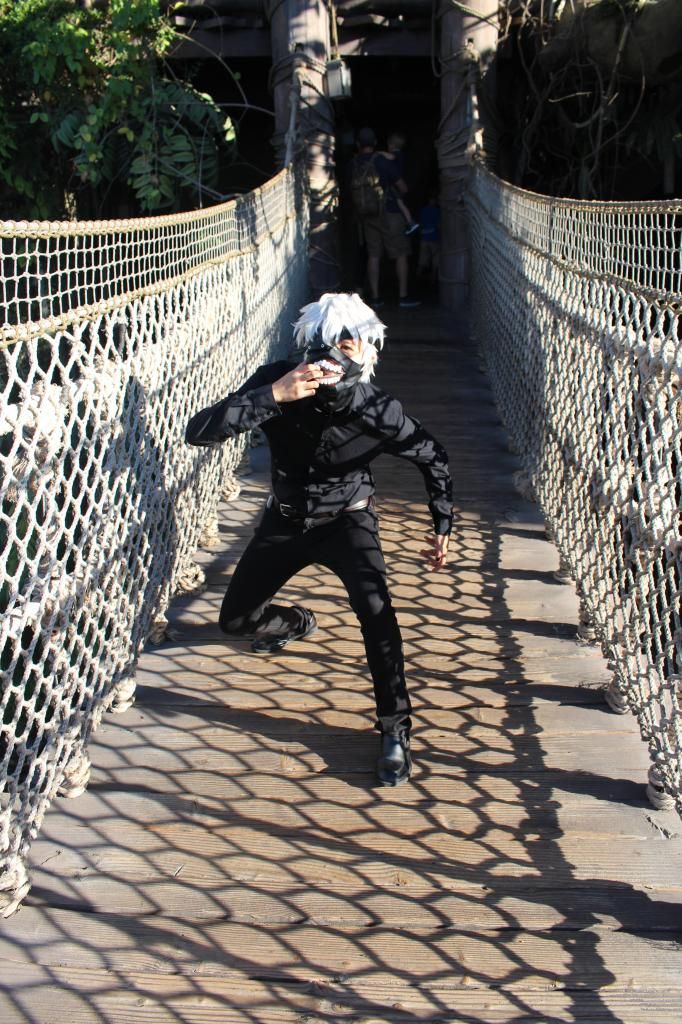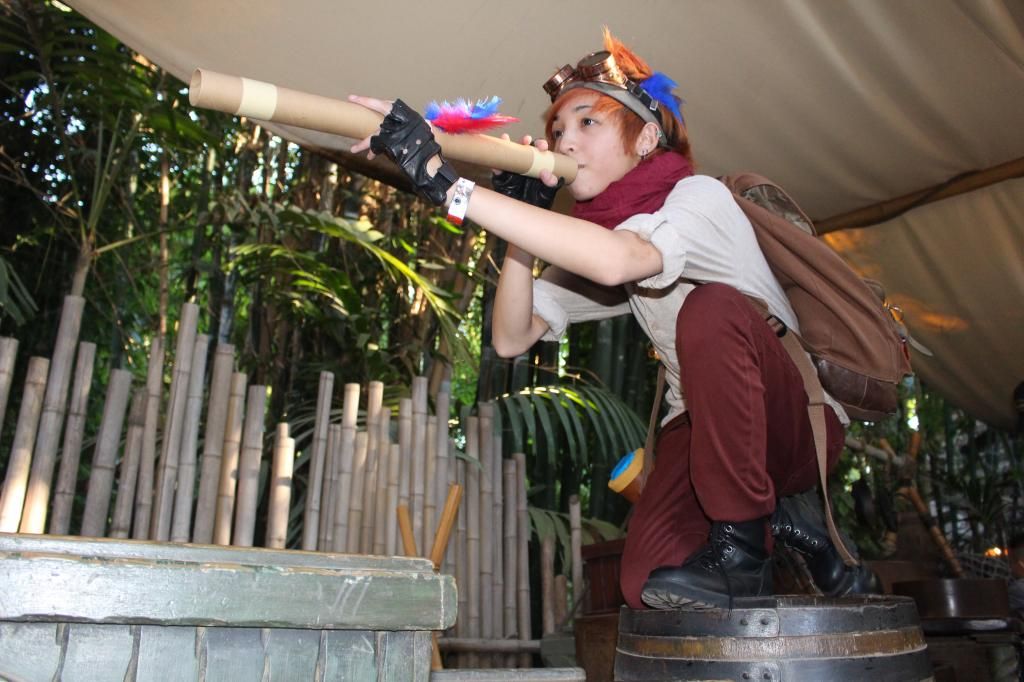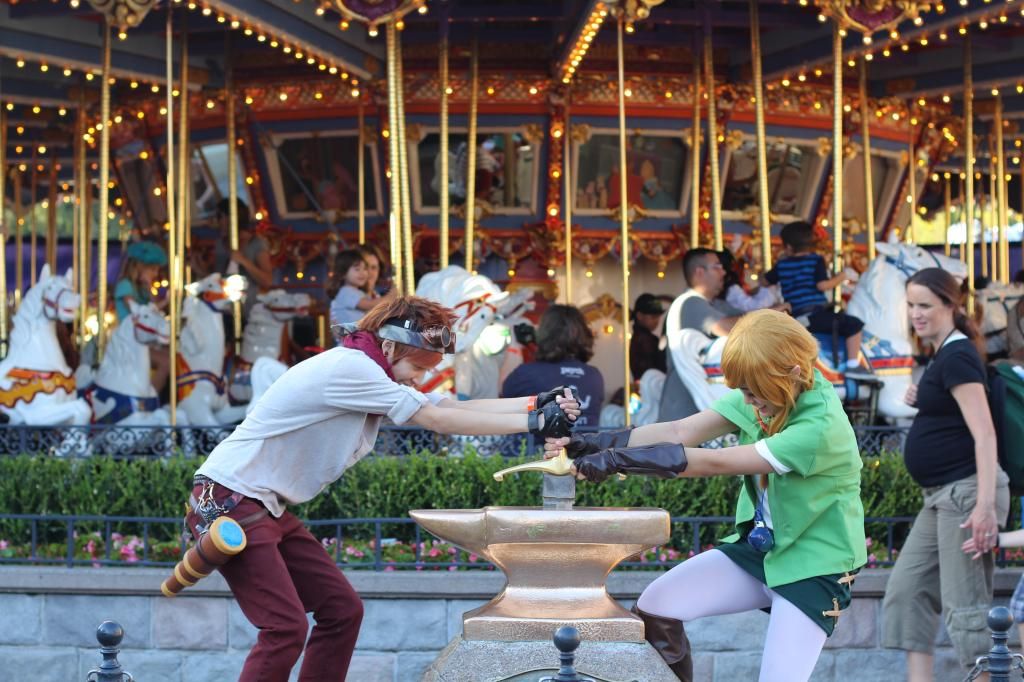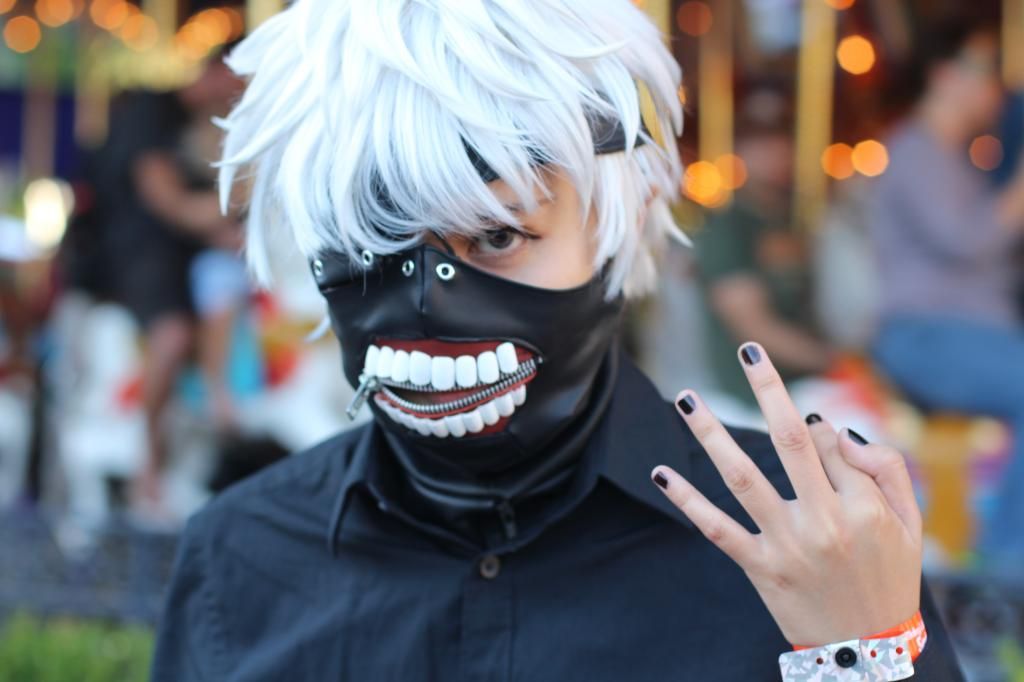 My sister Jona left later that month. I was sure to see her graduate within the next 8 weeks. When Halloween came around I went trick or treating with some of my closest friends. We then went to our first spooky corn maze together - it was...a memorable experience.
After the holidays I began on my cosplays on hold. The first was Natsu Dragneel from Fairy Tail. After the tedious task of rewefting the wig, which I finished back in 2013, I took him up again and began styling. This would've been the first time I've ever taken the job of styling a wig with a heavy dosage of spiking. It proved to be very difficult since I found myself many times creating spikes that just didn't seem to emulate his hair. I often had to go back for reference art and reorganize where each spike should be. But alas, within a week I managed to finish the wig. It took a lot of hard work and tears though.
The next costume I had planned for ALA would be Ringabel from the 3DS game Bravely Default. But with so many who already did the default outfit, I decided to opt out and go with the lowkey SP drink artwork. This also took a considerable amount of effort and tears. The biggest problem I ran into with Ringabel's hair was his definitive curl ontop. I tried and tried until I got a decent result.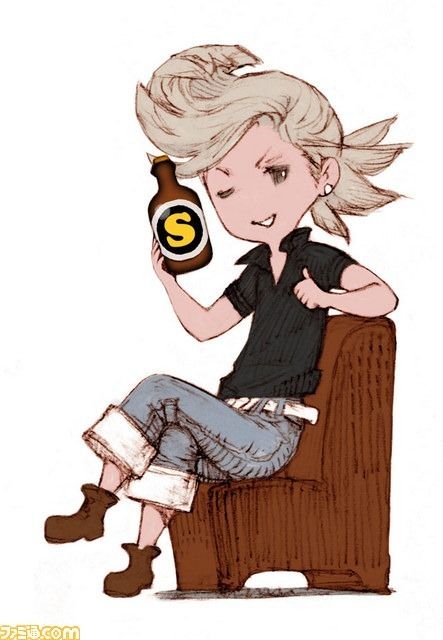 When ALA was only a few weeks away I already had my costumes planned out. Due to a tight budget I couldn't afford to make Natsu's timeskip outfit. There was just too much yardage to pay for so I went with a classic suit and tie instead. It was a very minor outfit he wore in one of the earlier episodes when they were taking civilian jobs in the anime.
This was the last year that ALA would be hosted at the LAX Mariott so I decided to join in on rooming with a few of my friends at the hotel. I was so thankful my friend Grace booked the room in advance because they ran out of space a few months before the event. What was also unexpected was the fact that this year they capped their badges for the entire weekend. I didn't see it coming and neither did my friends. For the first few hours we arrived with not much to do. Security around the pool was pretty tight so we just hung out at the lobby for kicks.
Oh no! What do we do?
But in the end all wasn't sad and gloomy. By the end of the day we found a loophole thanks to a few trustworthy friends. When we finally got to the pool and Grace changed into her Agnes Oblige we were all happy to have gotten in. Rai's friend Yirico was also in the pool in her Me!Me!Me! cosplay. My friend Linhdan asked her briefly to take some photos of me and her. I was pretty stoked with the photos~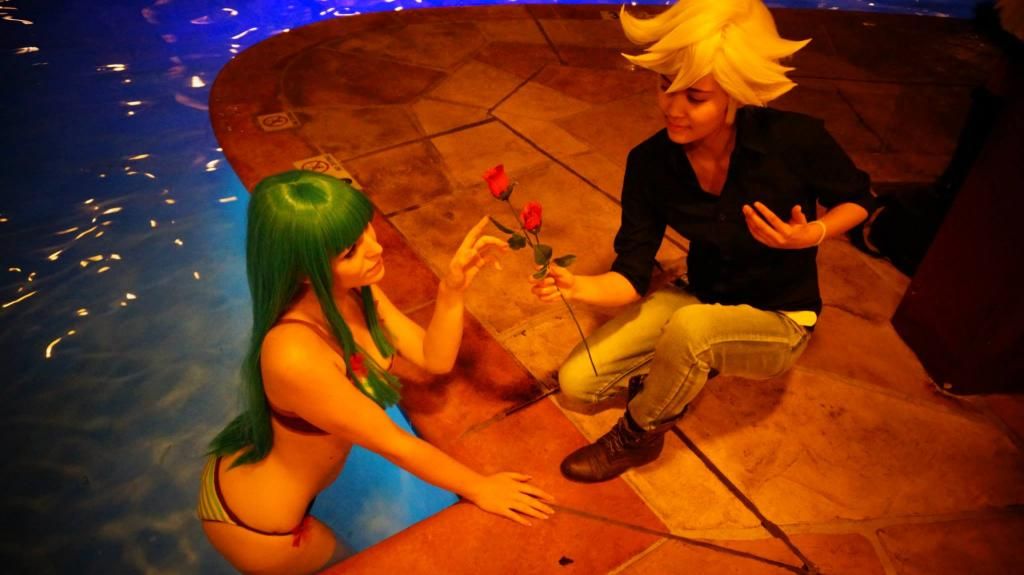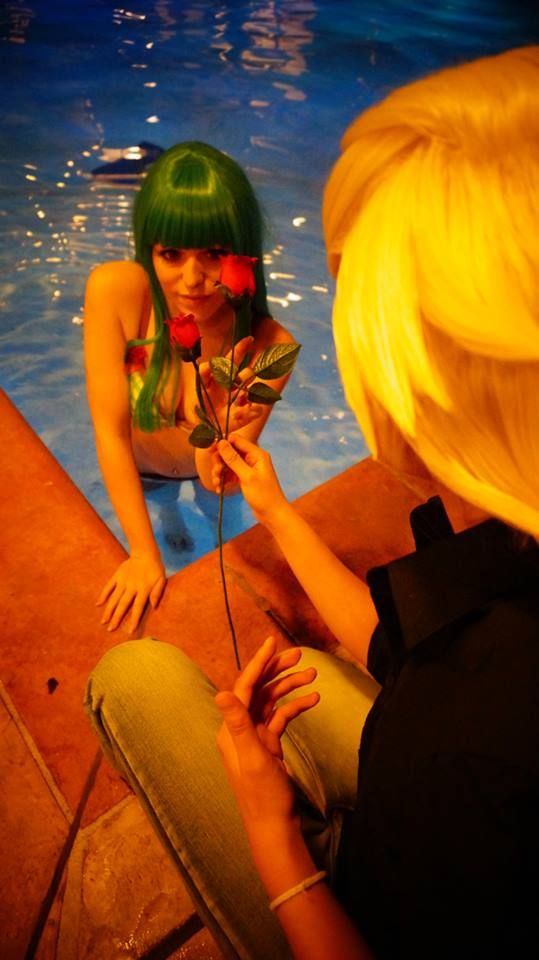 With not much going on the first day, I shot a few photos with Grace in her Agnes. The character was actually my suggestion since she only got a 3DS recently and didn't start on the game. But boy was I glad I did! She was such a cute Agnes.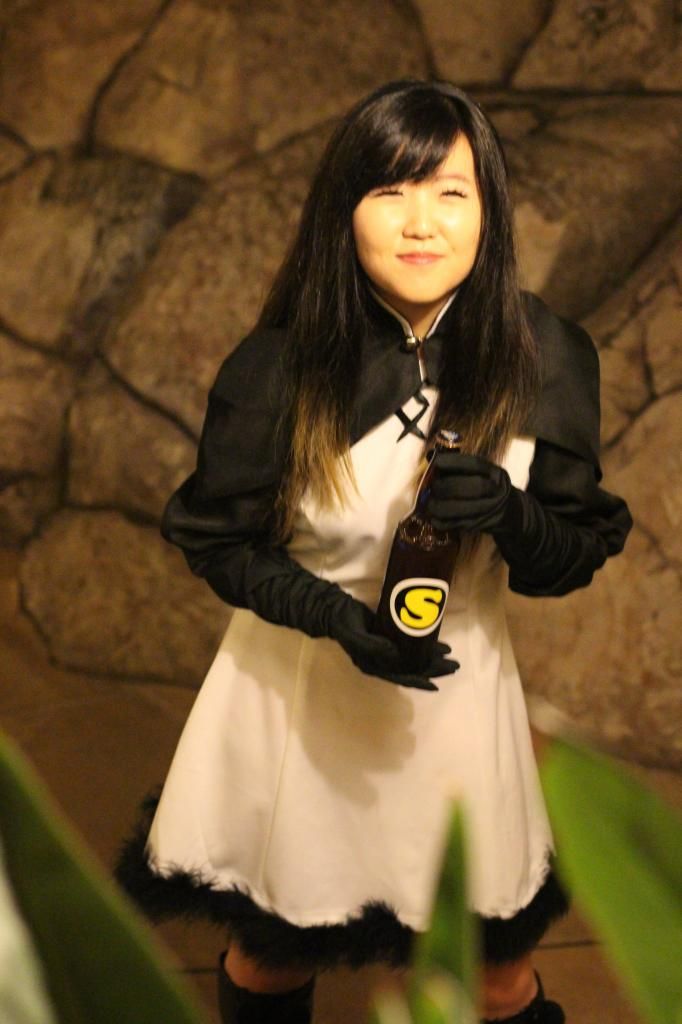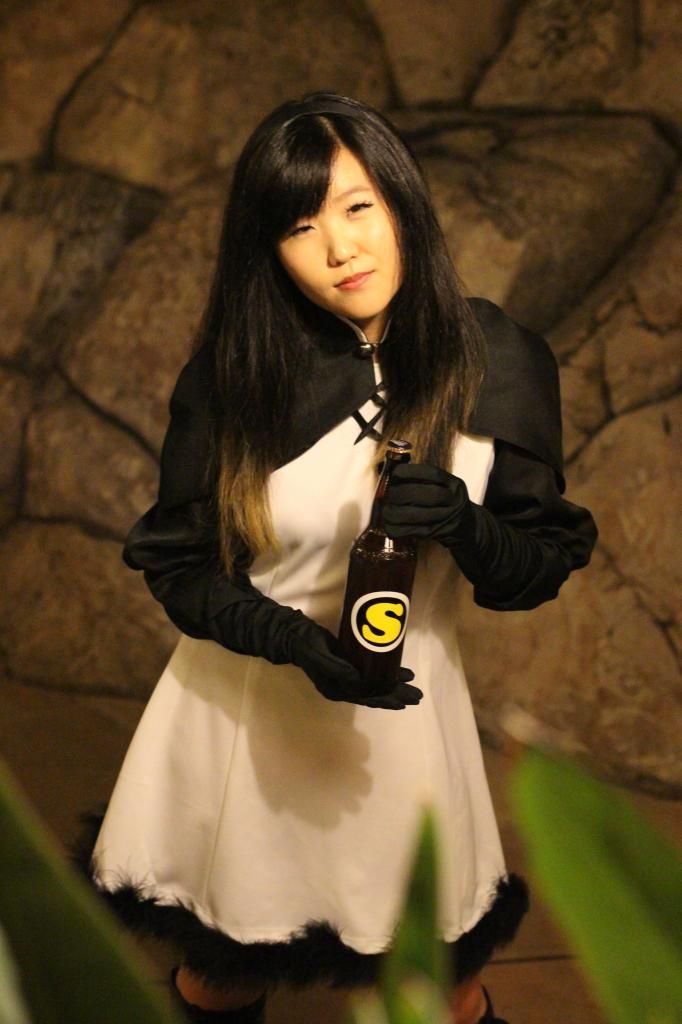 After that we lingered around the lobby to meetup with an Edea cosplayer Grace met when she was getting our badges. We took some photos together and looked around for others who were supposedly in Bravely Default too. The salve maker Edea and Rinagbel were spot on! We took some more photos - in Ringabel's signature pose in-game.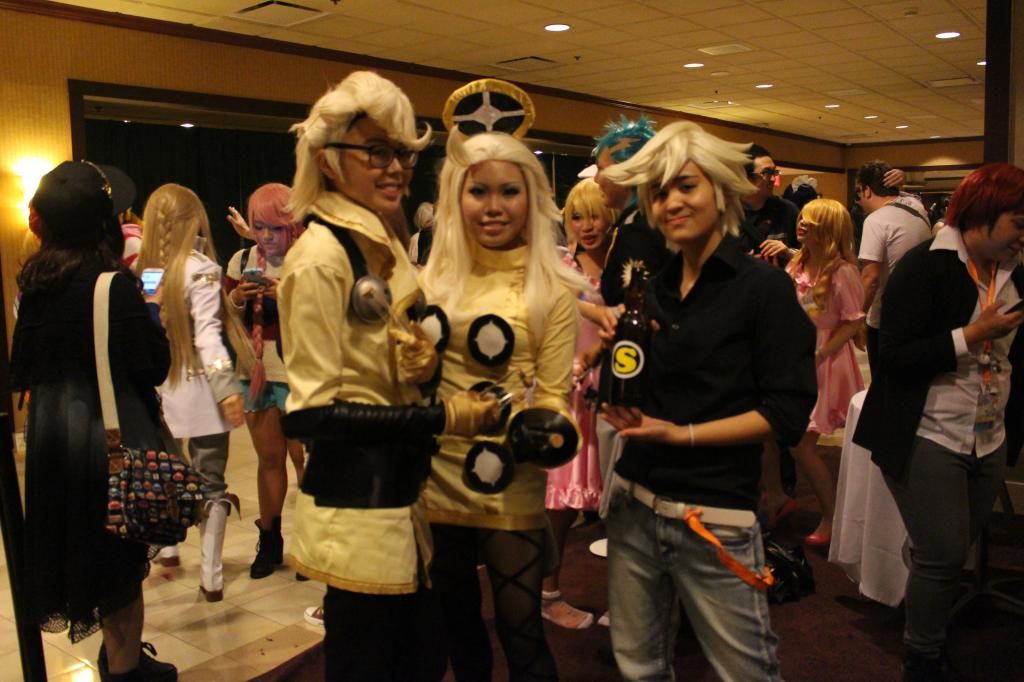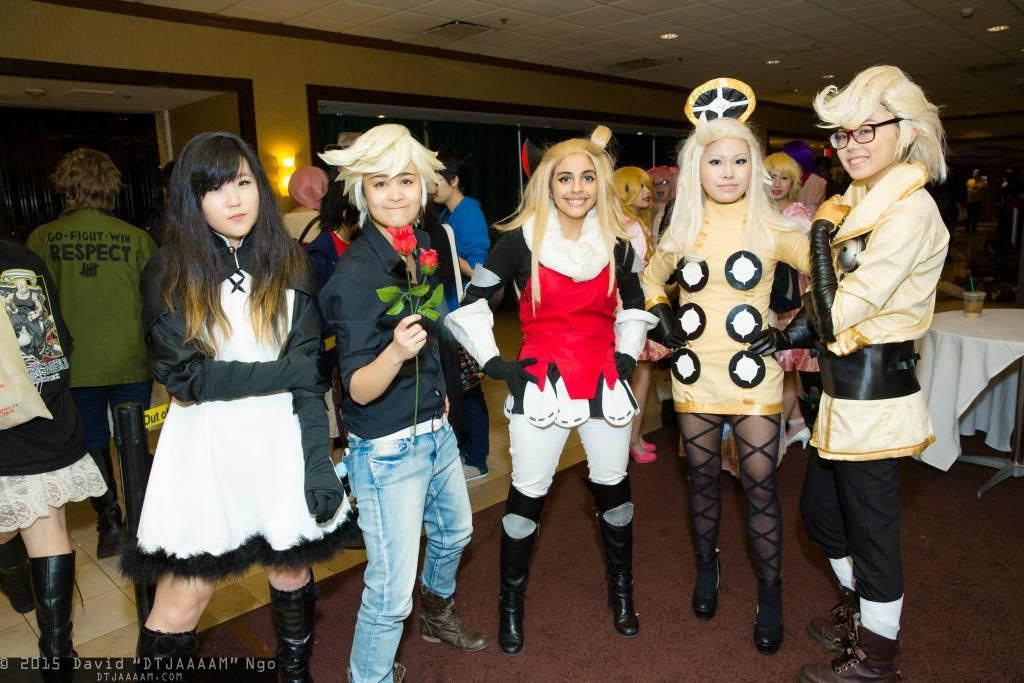 I was bummed out when we woke up to find it raining on Day 2. There really wasn't much to do with the pool area drenched in rain water. And with such a small con everyone was stuffed into the lobby.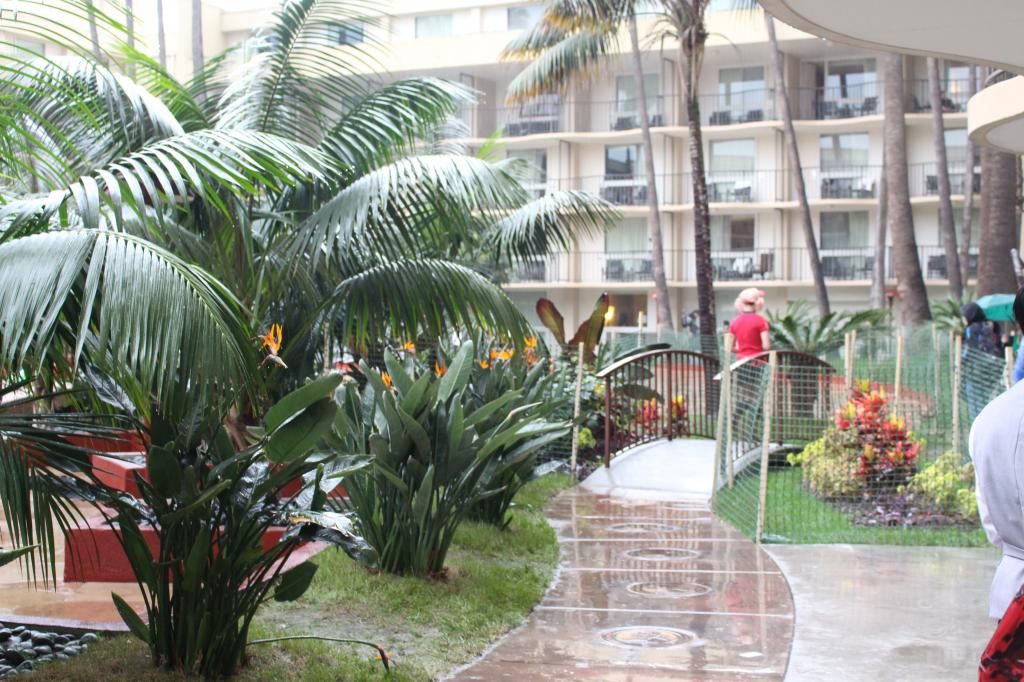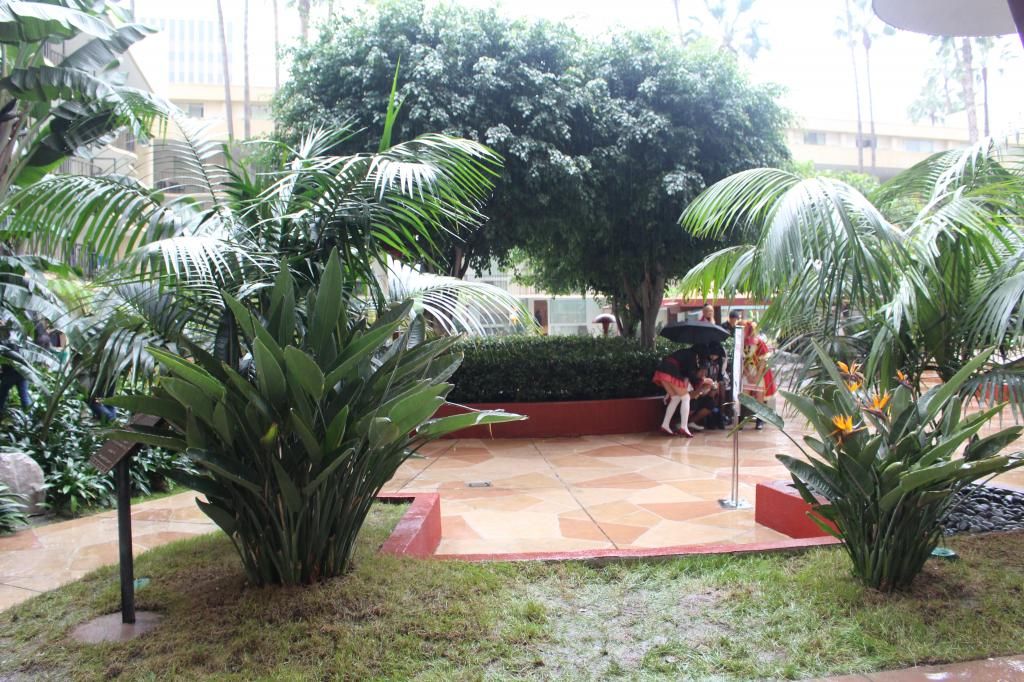 It hardly rains in California...


But no matter, we found ourselves preoccupied with a worthwhile activity - collecting ribbons! There were lots of people giving out their ribbons in exchange for either answering a question to their said fandom or participating in their desired request. For example, we had to "duel" for the Yu-Gi-Oh ribbon against Mai Valentine. We pick any card at random and if the attack points are greater than your opponent, you win. I got mine on my first try.
After that my friends and I roamed around for anything to do. I met this one Kamen rider whose costume was on point. I had to take a pic with him in my Natsu. I also found the same Ringabel cosplayer from day 1 in her Love Live! Hanayo. Apparently she cosplays Natsu too. At that moment we just had to be friends. The Fairy Tail meetup was at 4:30 by the pool, but since I just got better from being sick I decided not to show up. I really didn't want to take the chance and get sick again. But on the way to the lobby I ran into a very snazzy Erza cosplayer.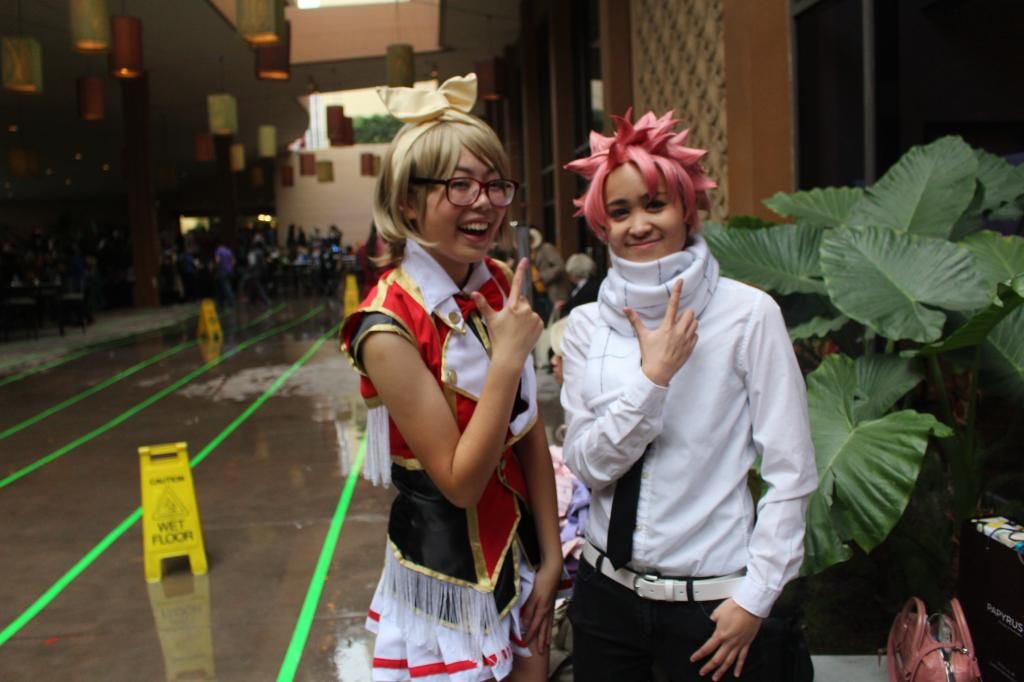 Later that night we kicked it at the lobby where it was packed with people. I was pretty pooped by then and just began taking more photos.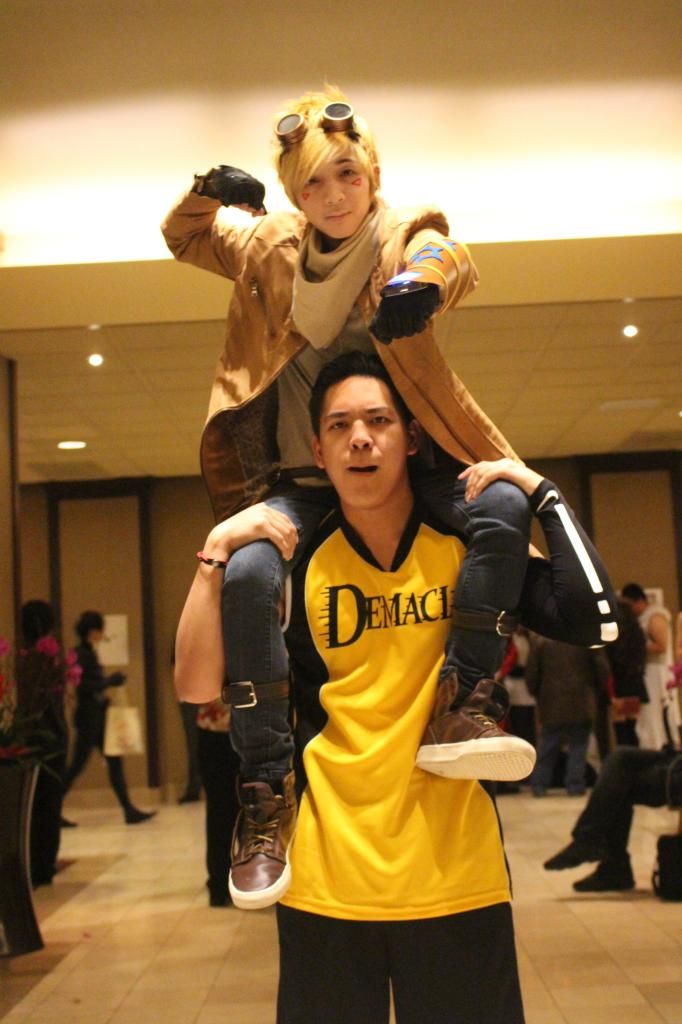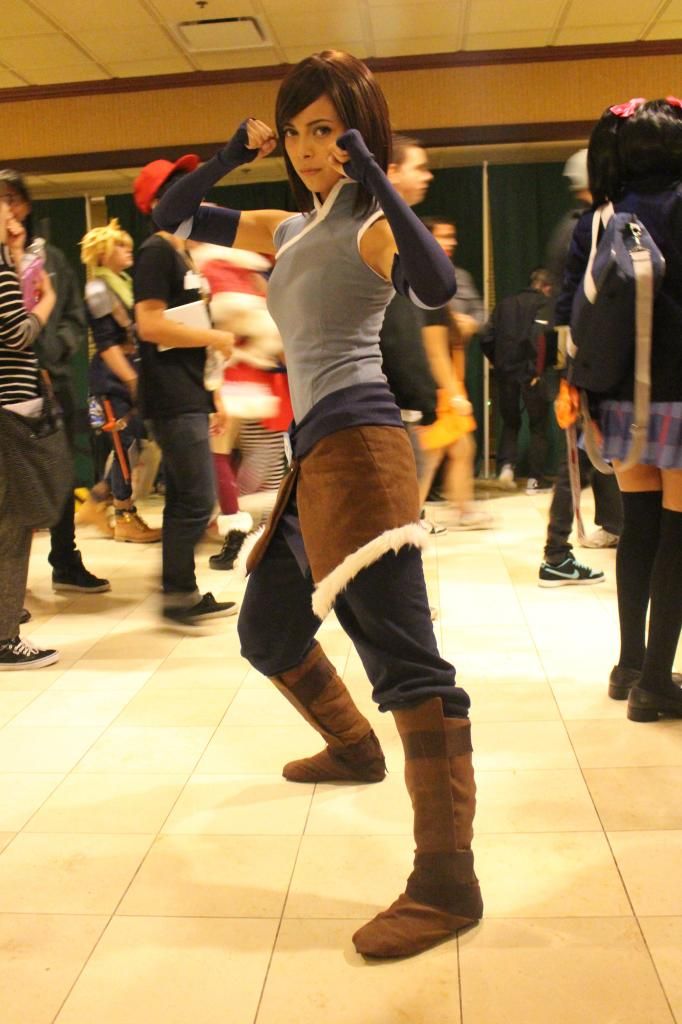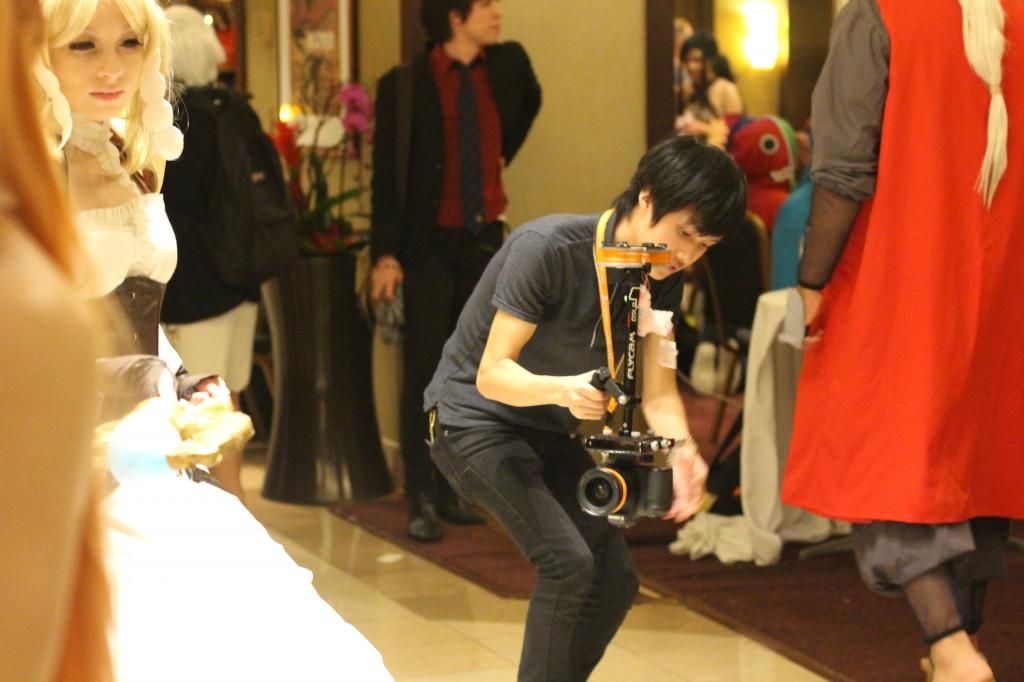 KLB Noodles from youtube was filming
Once I regained some energy I took my friends to the garage to do a small photo shoot. We took my AoT longboard just for fun. You can see that Rai really loves downhill cruising.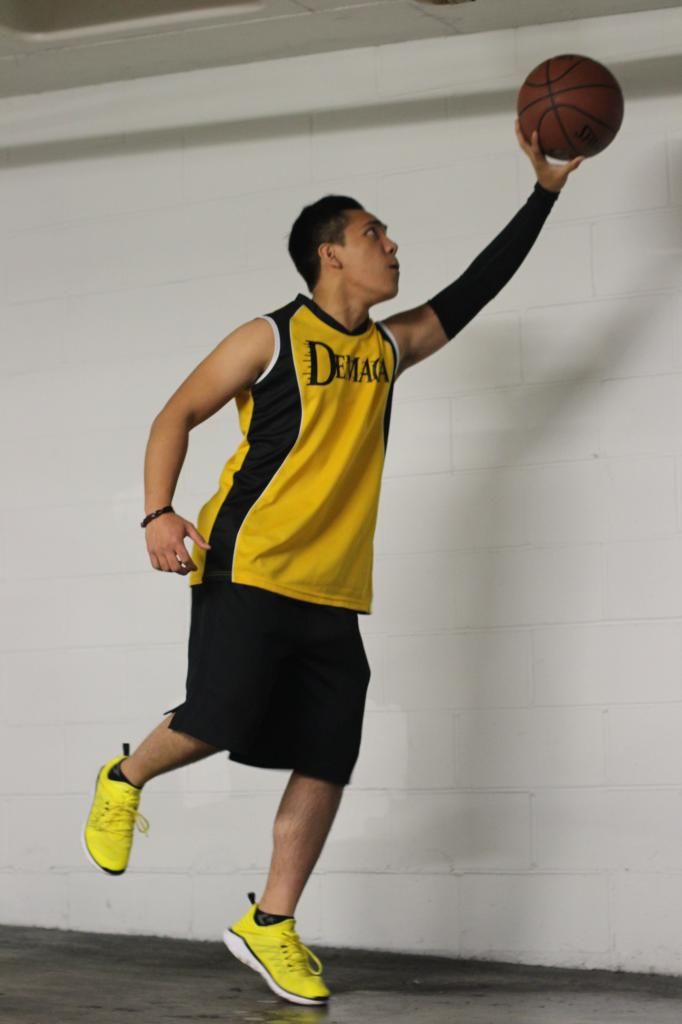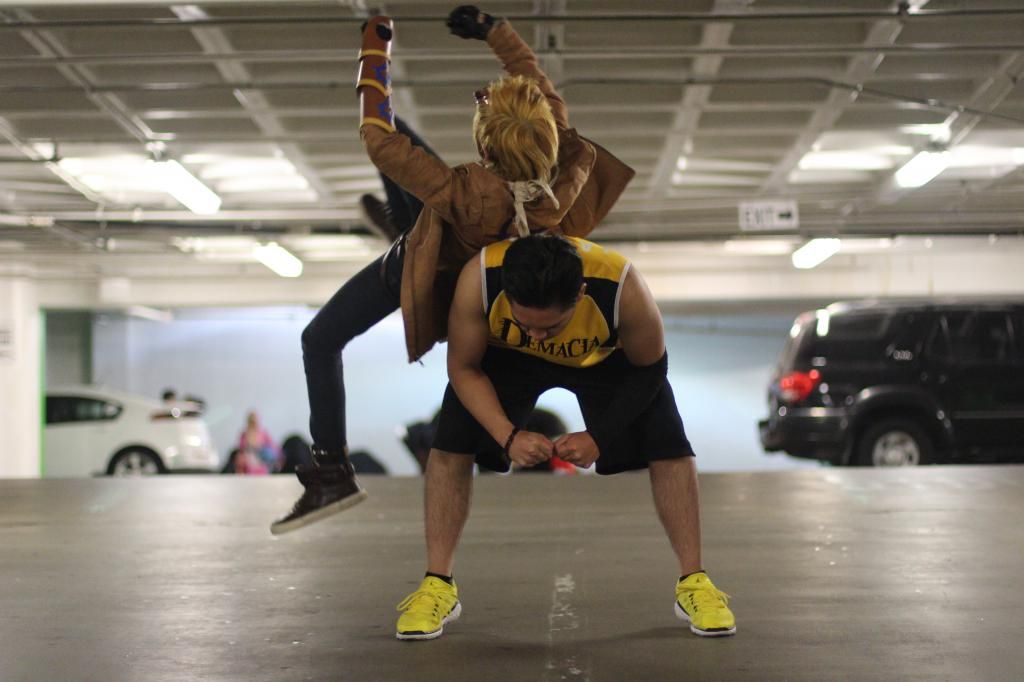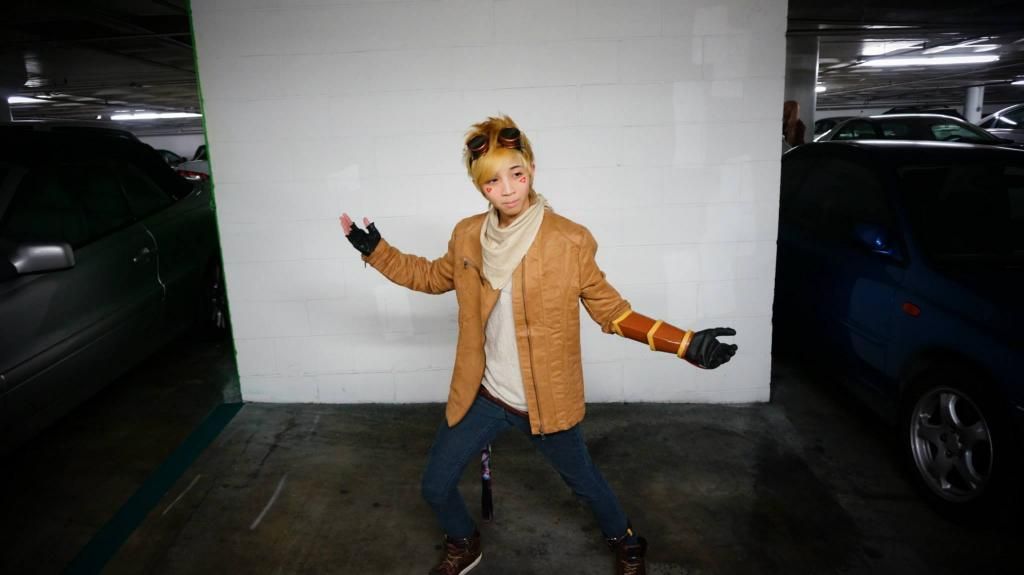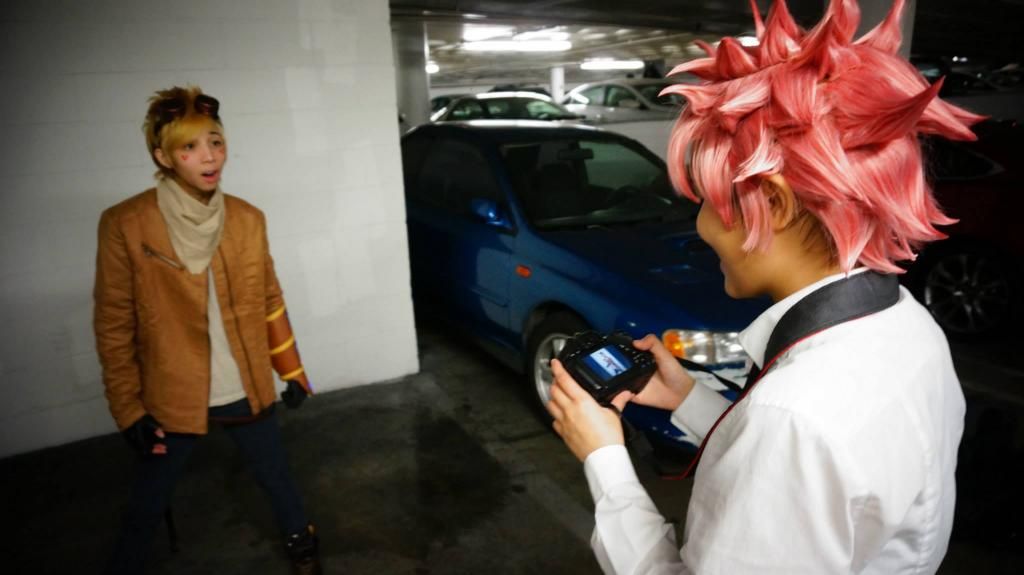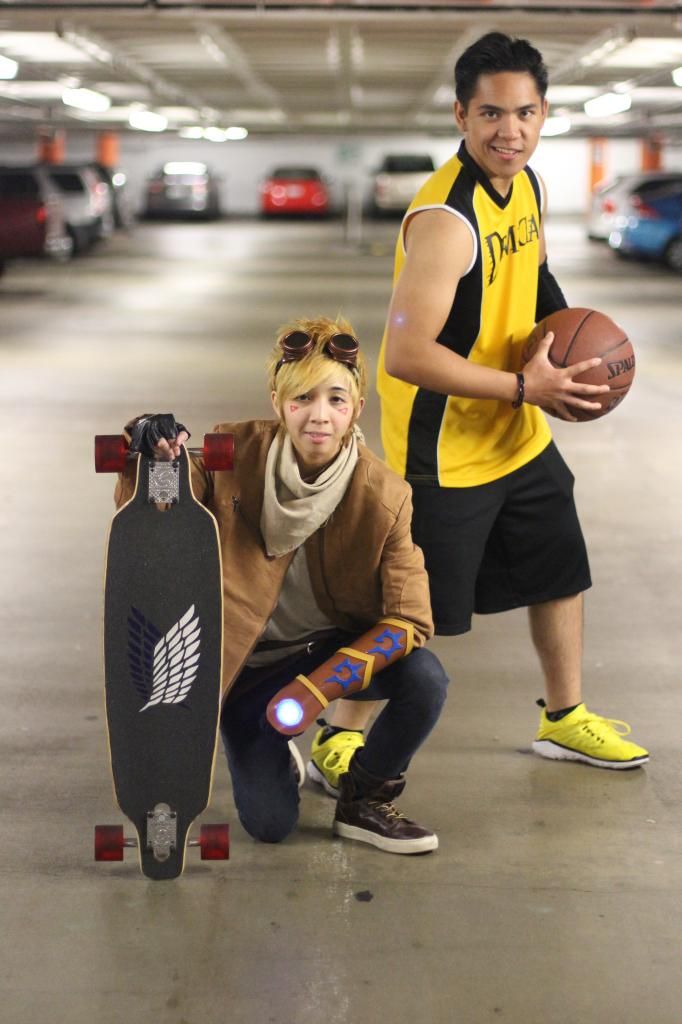 Yeah, the board is there so my friends could promote my art~
One of my main goals during the con was to meet the IMT (InnerMindTheater) girls from youtube as a complete group - They were well known for their Gangnam Style Legend of Korra music video back during it's first season. On the first day I happened to see them for a quick second in their Sailor Moon Fruit maid outfits, but they disappeared so quickly I couldn't catch them in time to snag a photo. With the second day waning away I was almost sure I would never run into them again. I guess the rain wasn't so bad because before the night ended I found IMT's and youtube's MangoSirene at the lobby in Haikyu! She didn't have anything to do so I stopped to chat with her for a good while. I mentioned how my little sister was serving in the military and how she looks up to her in the cosplay community. Her vlogs and costume WIPs have taught me and my sister some valuable things; like where to buy good wigs, what makeup to use, and what materials to work with in case of armor costumes. She said she was so moved by my sister's admiration that she was so close to crying. I asked her to sign the polaroid we took so I could send it to my sister for good luck.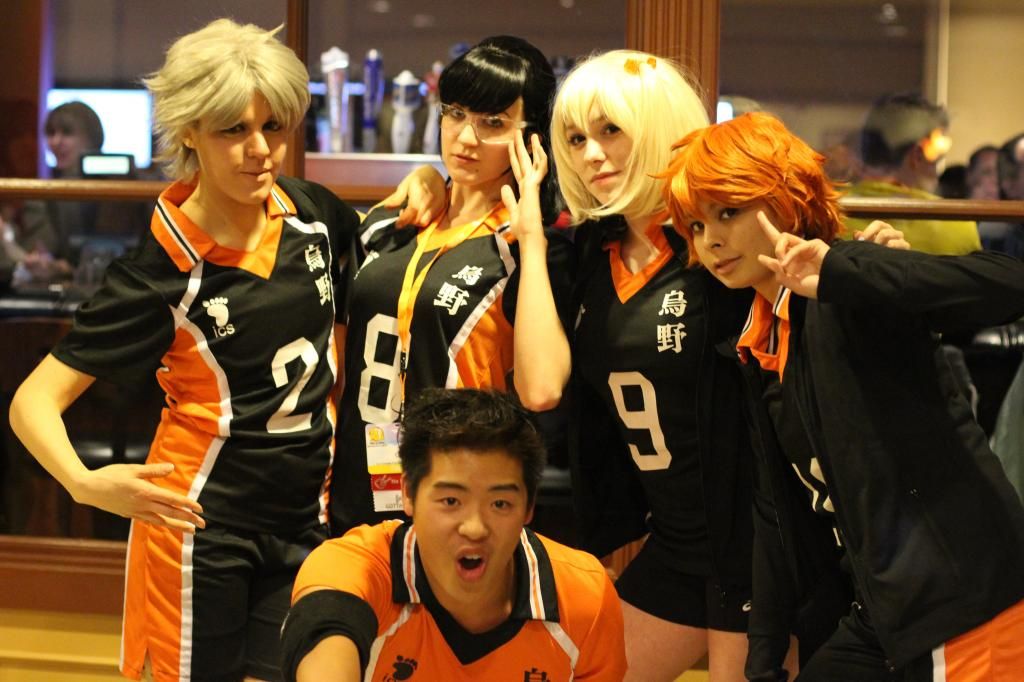 With the night still young my friends and I stayed up to have a good drink or two before we went down to some 18+ dubbing panels. Gahhh, some of my friends are pretty good at voice acting.
The last day was very slow. Grace got sick and went home on Saturday. I was also pooped since after the panel I had some very unfortunate misadventures with my drunken friends. The last day had very little rainshower so before we left I took more photos.
bubble bending!
So yeah, that pretty much sums up my experience at ALA. It saddens me to know that the venue next year will change to Ontario's Convention Center. It was only the second year I've been to ALA and what I loved about it the most was that it was a partycon and had a pool. With the change in location for next year, I don't think I'd want to drive 3 hours just to attend it.
But anyways, with the ripe feeling of residual con sars and future con excitement, I've already began planning my next costumes. I'm passing on Fanime this year to save up for a worthwhile cosplay - Bravely Default's Alternis Dim (unmasked). It'll be one of the costumes I'll debut for Expo alongside Natsu's official timeskip outfit!